Snugly Tentacles. Tentacled Dom. Erotic Rapey Tentacles. How fun!
I used to lament that many so-called tentacle erotica out there tends to stinge on actual tentacles action. Most of the times readers have to be content with only a fraction of the goodies promised. Maybe just a short one or two scenes with tentacles sexing and the rest of the book are fillers upon fillers. So it's a nice change to find that this is absolutely not the case with
Pet to the Tentacle Monsters!
.
The book was a chock-full of tentacles goodness in every erogenous as well as ahem non-erogenous hole.
It's exciting to find more than half of the book was dominated by
scenes after kinky scenes of tentacles action from the cute and sparkly kind, the dominating and controlling to the sadistic and forceful variety
. Poor Benji our young delinquent toy boy for the tentacle monsters was thrown into a frenzy of emotions. While trapped in the new and strange environment he gained precious friendship, learned contentment from his submission and what shock his system most was the intense pleasure he found through the sadistic play one of his masters seems to favor. This new side of him was confusing and the mental challenge was so great he was at a loss on how to handle it without fully breaking down.
The book
is
kinky. It has a long list of kinks going on but I would only list a few here:
Lots of this...
The
breathplay
was a nice touch.
Some of this...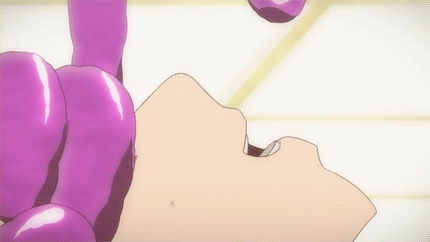 I do like the syrupy fluid but it would be nicer if it has a function like a calming effect, a muscle relaxant or better still an aphrodisiac. Nothing beats having them fighting against forced arousal.
There's quite alot of this...
I like the
corporal punishments
but wish I could get into the head of either the one inflicting it or the recipient of it. Standing outside of the scene watching it from the side isn't as much fun as knowing what goes on in their mind while it's happening.
A touch of
CBT
as encouragement for obedience.
Generally there are wonky parts in the plots and writing but overall it is a nice tentacle erotica that actually delivers the porn as well as the plot. Hell, the tentacle porn starts as early as 20-30% into the book. This means that 70% of the book was pure kink since it was marathon tentacle action as soon as the kink engine started.
Fans of noncon tentacle sex would love the forced orgasms, sexual torture and fruitless struggles of the violated innocence.
Don't be afraid to try this book out because Kitty here knows best when it comes to soothing the hurt and comforting the soul. Just so you know, there's plentiful of
hurt & comfort
in this book and I prefer Silver's version of hurt & comfort play the most.
Lastly one more thing to share; everybody loves Kitty except me. Begone Kitty.
BOOK DETAILS:
Title:
[b:Pet to the Tentacle Monsters!|22706863|Pet to the Tentacle Monsters!|Lilia Ford|https://d.gr-assets.com/books/1405033280s/22706863.jpg|42228666]
Author:
[a:Lilia Ford|6469805|Lilia Ford|https://d.gr-assets.com/authors/1346124282p2/6469805.jpg]
Publication Date:
July 9th, 2014
Publisher:
Liliaford Romance LLC
Type:
Short story
Genre:
Gay Scifi Erotica
Tags:
tentacle sex, non-consensual, D/S, dominance & submission, sadomasochism, S&M, humiliation & degradation, pain & pleasure, rape, bondage, abuse, mild CBT, breath-play, orgasm denial, forced orgasm, forced seduction, deep-throating, gagging, throat rape, master & pet, pet training, spankings, corporal punishments, dystopian world, dystopia, alien invasion, social stratification, interspecies, xenophilia, captive, captivity, confinement, size difference, sexual torture, sex pet
Description:
It's been more than twelve years since the alien invasion wiped out much of the human population and forced those who were left into Refugee Communes. As far as Benji Tucker is concerned, a life devoted to bare survival is boring as hell. But when a stupid prank threatens to bring disaster down on the entire commune, the Galactic Enforcers show up and announce Benji is now eligible for adoption—by the invaders!
He wakes in a plain white cell to find three very different monsters determined to make him their pet.
Warning:
Adult Readers Only. Contains plenty of hot, non-consensual tentacle action, including but not limited to tentacle spanking, tentacle gagging, and tentacle-sex. Quite separately, it also contains an adorable pink-rainbow-sparkle tentacle monster. Those who dislike adorable pink rainbow sparkles or hot tentacle action should definitely not read this book.
This review has also been cross-posted on:
* Reviewed on January 8th, 2015
*:--☆--:*:--☆:*:--☆--:*:--☆--:*:--☆--:*:--☆:*:--☆--:*:--☆--:*
***Disclaimer:
Just so you know, this book was a gift from the author herself who is also a friend of mine on Goodreads. Thank you, Lilia!
***